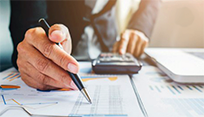 Many businesses value bespoke management accounts and these are often called for by lenders or investors.
Cornmill Associates have the capability to set up reports (including 'Dashboards') which business owners can then adopt and use for briefing management or third parties on key performance issues.
We also work closely with several good quality and trusted accountancy firms for more complex accounting needs. We can always make an introduction to an accountant where we know the relationship would fit with the businesses or the owner's needs.