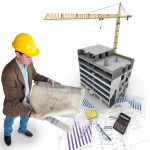 Organising funding for property development involves challenges. Loans are available but from a plethora of different types of lenders with different criteria, all taking the opportunity to fill the gap left by the High Street banks who remain very cautious about this sector.
Those developers operating on a scale to justify having a full-time FD can deal with this challenge (Loan Origination is normally part of their job) but many mid-sized or smaller builders cannot justify this cost and find it harder to find funding as a result.
This is one reason why many developers use commercial finance brokers – the obvious solution where a knowledge of the market is essential. However developers often criticise the broker model because:
The developer still has work to do to present the case to the broker. The broker will act as the interface with the lenders, but not always reduce the initial workload.
As lenders get further into sanctioning a case their need for detailed information places more demands on the developer, who is trying to deal with other issues at this stage of a project.
The developer also has to educate the broker. All developers work differently with different styles and approaches to managing projects and people. Those 'ethics' need to be conveyed to a lender for the best financial partnership, but they take time for a broker to assimilate (it is why brokers are more effective for clients when they work for them on a repeat basis).
Depending on the broker used and how they operate, their 'success fee' model can look disproportionate to the work they have put in. Developer's financial success depend upon keeping tight control on all costs and being confident they are getting value from all professionals involved at this stage.
'Cornmill Associates' offer an alternative to both models. Steve Leverton is a specialist broker for property development within 'Stirling Partners Finance' but can also act as an interim or part-time loan originator within the business.
With experience of working with developers and lenders at all stages of a project, and preparing financial appraisals and comprehensive presentations, we can provide an offering which:
Enables a developer to establish a close relationship with a professional who can get to really understand the business (to the extent that a broker couldn't normally justify) and be their 'Loan Originator' as and when they need them.
Reduces the amount of work in pulling together project information, particularly financials.
Gets presentation work done in a way that makes the funding case look more compelling to a lender (who will have plenty of other schemes on their desk to consider).
Creates a 'pay as I need you' option for the costs, using in-house 'interim' rates rather than the brokers commission model.
For more details please email: steveleverton@cornmillassociates.co.uk or call 07814 619207