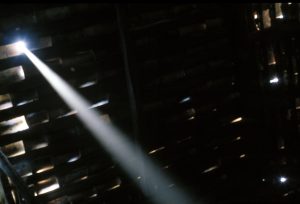 As a country lad I remember being shut in a very dark barn on a sunny day. It was pitch black but in one corner a tiny crack in a roof tile had an interesting effect: by the time the sunlight hit the ground it was like a spotlight on a stage. A chink had become a ray of light!. Now just hold that thought…
SME's have, in their eyes, relatively straightforward needs from their bank. Reliable basic banking and somewhere to transact (i.e. a branch) when they have to – but also, for most, someone they can speak to when things go wrong or they want something (the most quoted being a loan or overdraft). However these are all costly services to deliver for a bank.
Whats also interesting about the SME sector is that they create 'character' issues for banks. 'Corporates' are easily understood by bankers, because the bank is a corporate and they get to deal with CFO's who are similar kinds of people. Because the individual accounts are higher value the banks tend to put the most capable people into their relationship management and smaller portfolios are viable. 'Personal' customers are easily understood and handled, because lets face it, we are all personal bank customers, our needs are relatively homogeneous, and a huge number can be dealt with very cost-effectively.
SME's however bring a number of challenges. Firstly they genuinely are all different types of businesses and to provide the best service they ideally need something 'bespoke'. However the individual accounts will never generate that much value to a bank, so it is difficult to allocate costly relationship management to them, and where that happens it has to be relatively junior and lower cost than a corporate relationship team. This means we don't get the most experienced managers trying to handle them and they have large portfolios to make them anywhere near viable.
Secondly, as highlighted in work that I did with an industrial psychologist, entrepreneurs and business owners (whatever we call them nowadays) tend to have rather different mindsets and traits to bankers. So they are a bit more difficult for a bank manager to relate to and understand (and to deal with effectively).
Then, when it comes to lending to SME's, we cannot get away from the fact that it is difficult for a bank to make money out of lending to this sector at the level of the banks own balance sheet/profit and loss. The risks are higher, it is more difficult to appraise propositions and loan books are more costly to monitor.
This leads to a dichotomy between the attitude towards the SME sector at the top of the bank and those working with them at the front line/day to day. How many times do you hear a business owner say 'my bank manager himself/herself is great, it's when they have to go up the line when we have a problem'.
If you asked most front line bank managers the question: Who is your favourite/most interesting customer? it wouldn't be the Corporate (who tells them what to do) or the personal customer with investments etc. It would be their most challenging SME owner, who has an interesting business, a fascinating story and constantly pushes the boundaries for themselves and the bank.
Yet at the top of the bank (who of course have to look at the financial and strategic equations) this would be their worst customer. The sector is good for volume if they can be handled cost-effectively and the risk can be contained. It is good for PR of course ('The bank is helping Britain' etc) and the reality is that it isn't a sector you could ever exclude – many one-man bands stem from personal customer accounts of course.
So the reality is that there is a tension within the banks about how to deal with SME's.
And getting back to the barn anecdote? Well most of the problems involved with SME banking seem to come from the fact that the public message is that the bank wants and likes to be an important provider, but it only needs a 'chink' in the attitude at the top for this to emanate down to those making decisions on matters such as lending and customer service.
I therefore read with interest the comments of Alison Rose (new CEO of RBS) about being last in the customer satisfaction service for the third year running. They have the largest market share of the business banking market, they have made understandable decisions about trying to maintain that position whilst handling accounts at the lowest cost and they have streamlined their lending products and processes. It would be interesting to know how much influence this sector is having on their service results? The bank's response?: 'The bank is investing in teams focused on improving the areas where service falls short'. This sounds like some short-term troubleshooters going in to fix something specific?
But… you cannot stop a chink becoming a ray of light (in the attitude to this sector)