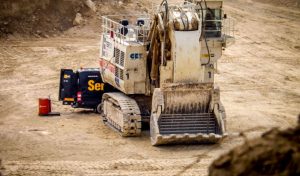 Not many people know that I am the owner of a vintage bulldozer (a 1965 Drott International if you must know) so I'm always interested when one of my best clients comes to me for help with one of their heavy plant deals.
This is a great example and their latest transaction. The basics are that they have a client in the Middle East who wanted to buy a huge excavator. My client knew there was just the model that they needed in Scandinavia and it was available. There followed a logistical challenge in that the machine had to be dismantled first, then shipped to the UK, then shipped from the UK to the Middle East, where it would be rebuilt. All this takes time of course.
But it also takes money, because the machine had to be paid for by my client first. With several smaller deals underway their cashflow was tight so hence them asking for my help.
I'm pleased that I was able to guide the client around the complexities of funding this deal, using specialist Trade Finance to access 100%of the purchase price, secured by a Letter of Credit from the ultimate buyer (effectively a Guarantee, backed by a bank, that they would buy the vehicle once it arrived safely)
Another problem solved